Category: Comparative Product Reviews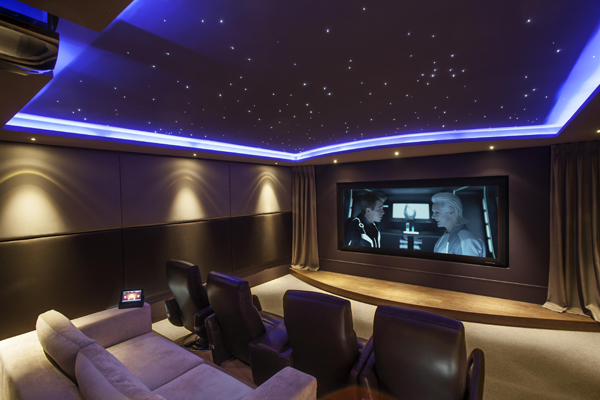 The phrase Home Theater System is rather a generic term in the broad scope of home theater equipment, and how to build a home theater system is even more broad. Home Theater systems comes in a wide variety of flavors, and one design rarely fits the needs of another, so building a home theater system require a lot of planning and knowledge. In the most basic form, a Home Theater System is a simple 5.1 surround sound system linked to an A/V receiver and a projection screen or HDTV. This type of home theater system can be easily picked up at one of the box retailers and installed with very little skill.
In today's technology driven world with most electronic devices being labeled as "Smart," and being DLNA and UPnP compliant, Home Theater systems now expand in much greater detail. No longer does the average home owner want the basic home theater system, as that offers very little interaction with other devices and limits those finer qualities such as networking all your devices for control, incorporating automation functions, etc .
Today's Home Theater consumer wants to sit in that comfy theater seat with a handheld device such as an iPad and control not only the entertainment in front of them, but rather select music or videos from shared sources such as media pc's, gaming consoles, and other storage devices, and further display them in various locations. Being able to pull up live security cameras in any zone and send them to a select zone has been a big request for us as well.
The vast majority of our clients want a specific home theater system, but with all the products available on the market, it's a mind blowing experience. The worst part for a consumer is trying to find home theater system products that play nice with one another (compatibility), and are expandable to meet new technology or further expansion within the home theater system. Enter network A/V receivers, the newest features in home theater system equipment designed to mesh with the home network and offer control to a degree. While these features are certainly an added value,there are also limitation within the A/V receiver when used as the source controller, and a few of the biggest issues are severe latency when switching sources, poorly designed GUI's, inherent problems with 2 way communication, driver issues, etc. For these reasons to name but a few, a home theater system should include a controller and possible matrix switching.
If you are anything like us, and per the many requests we get, we know you are, we love technology and the convenience it offers. I'm not interested in having 10 remotes, or an all in one remote that simply just powers components on. Oh No, we want control of everything, or at least the option to do so later on with what we have.
Below is our Home Theater System that enables you to accomplish nearly anything you want while controlling it from one location, or multiple locations.
1) Home Theater System computer. We use a custom built rack mounted 8 core 4+GHz based pc with all the goodies and plenty of storage. The PC runs server software for streaming audio and video content over the network. The home theater pc also acts as a gaming console and full use computer. the option of use are are unlimited, from recording TV to using it as a NVR security control system. In addition to the pc, we include a rackmounted touchscreen for complete acess to the pc when at the rack.
2) A/V Receiver. We use an HDBaseT network receiver to extend it's capabilities into other areas over a single cat6 cable. Not only can you have your full surround sound in your home theater, but run another in a serrate room, or mix it up with 4 zones, a main zone with full surround, 2 audio zones and a fourth zone with HD video, all at the same time.
3) Media & Control Components. These are source components such as game consoles, NVR, DVR, settop boxes, Blu Ray, DVD (DVD and Blu Ray can be part of the pc), automation, etc.
4) Network POE Switch. Every home network should have a POE switch. We use the 24 port Signamax POE switch on most of our installs. The switch runs the network and also our security IP camera systems. It's a valuable component for controlling network traffic efficiently, among many other aspects.
5) Home Theater Master Controller. This is the piece that pulls it all together. The Key Digital MC 1000 (review coming soon) is the IOS backbone with an amazing AP to fully control the system and set sequences for truly pure home theater automation. Control audio, video, HVAC, shades, security, lighting, other much more. This control will need to be programmed to your specific needs, and requires training, but NDC will take care of the programming during the installation.